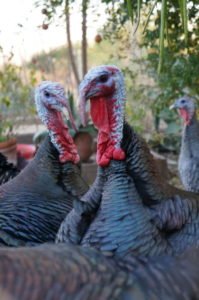 This past Monday I think I may have eaten the finest turkey I have ever tasted. Not to mention the brazil nut sausage, wild mushroom stuffing, the pre-supper hors d'oeuvres, wine, and a choice of five homemade pies all cooked and lovingly served by my father and mother-in-law. I have officially slid back a belt notch. It is easy to sit and "count my blessings", for which I am truly grateful. I also live in a nice house, in a great neighbourhood. I serve a large historic thriving parish full of warm people. Our family has a car, we can freely express our political or religious views, and my children attend an excellent school that they walk to.
And then there is Aleppo. There is Haiti. There are atrocities against women and children where rape and mutilation is used as a weapon. There is human trafficking even in my own city. There are First Nation reserves in my country where there is no access to safe drinking water.
On Sunday we will hear that God grants justice to his chosen ones who cry out (Luke 18:1-8). So, I guess I am a chosen one?
It is often painful to hear people share how they walked out of a car accident apparently at God's discretion. "God needed me." There is some special sacred mission that God is preserving me for that for a split second God miraculously changed the laws of physics and created a holy bubble around me to prevent me from flying through my windshield like the poor fellow beside me. So much for him, and so much for all those people who cry out to God for justice and…he doesn't come. "Oh to be the chosen."
Truth be told, I don't think God acts that way. In fact, I don't think God really "acts" at all – other than the outpouring of Love that is creation. Jesus, in his humanity, yielded to his Divinity which healed all human nature and allowing us also to share in the divine nature ( 2 Peter 1:4). God does not transgress our free will. God doesn't "save" those who pray more fervently, or pronounce the correct creed, or destroy living cancer cells in his "chosen." Nor does he miraculously alter the laws of nature to interfere, scold, punish, or reward. God is love. God is.
I think everything we need to hear, to know and to become is made available to us in the Eucharist. God acts through us, or rather, God's love is manifest in the actions of those who love him, of those who become him. That is what we are doing when we say our Amen and proclaim the truth of bread and wine, flesh and blood in the Eucharist. St Theresa's poem is no metaphor, it is the Truth:
"Christ has no hands but yours."
So the prayers are answered when we yield to God in Christ. When we stop selling arms and instead give medicine. When we make it a priority to find healthcare for women, children and men in all places. When we step into Allepo, Syria and shield, and lift up our children and sisters and brothers there. When we refuse to participate in unjust structures, and lopsided economies. When we rush to the side of our Haitian family and when we regard and treat our First Nation fellow countrymen as children of God. We are the body, the hands and hearts which make justice.
My Thanksgiving dinner is surely a blessing, a blessing to be loved, and to receive such plenteousness – but it is also a privilege. A privilege that I misuse when I don't share it. A blessing that I am not truly claiming if it is not to belong to the whole body. I think Augustine says it best. When he offers the bread he says: "Take what you are." After all, you are what you eat – and I don't want to be stuffed turkey.