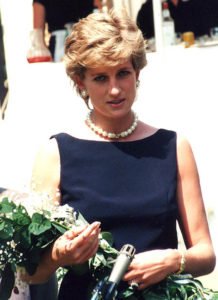 Princess Diana died on the evening before I moved away to begin university studies. I once would have said that I loved Diana. One of my earliest memories is of watching her wedding with my mother and grandmother at 4 in the morning when I was three years old. Throughout my childhood, I pored over the glossy magazine pictures of her. I dreamt about meeting her. I hungered for details about her life and spoke adoring words about her. I kept a sleepless, tear-filled vigil on the night of her death.
Over the twenty years since then, my feelings about her shifted slowly but definitively from love to ambivalence. I came to see her as merely sad – the ultimate embodiment of narcissistic celebrity culture for a shallow and hysterical people. I realized that I couldn't have loved her, because of course I didn't know her.
This past spring, I visited Diana's former home of Kensington Palace. The tour ended with a display of some of her dresses. The overused word "iconic" would be an appropriate description for this carefully curated collection: to say that these dresses are iconic is to claim that they represent more than just expensive clothing worn by a famous person. I surprised myself by tearing up in front of a strapless powder blue Catherine Walker gown, which I had ogled in countless pictures and which looked so small and real behind the glass in front of me. Diana wore it at the Cannes Film Festival, a night where she was outwardly at her most dazzling. Later revelations attached a layer of heartbreak and fallibility to the dress too. Diana had been informed in the limousine on that glamorous night that a man for whom she had developed inappropriately close feelings had died in a car crash. I thought I had long since closed the book on my love for Diana, but as I stared at the dress I saw a physical representation of the adoration I once had; I saw also the crushing disappointment I had felt for all of the flaws that I, along with the whole world, would see crack through her happily-ever-after façade.
In the Christian faith, an icon is understood as a window to God. Icons aren't painted, they are written by the prayer of the iconographer, the icon then becoming an invitation to those who see it to draw closer to God. As Archbishop Rowan Williams notes, through icons we are "taken into another realm, another frame of reference. That of course is what an icon does: it takes you to the inner story, to the bedrock of what's going on." One of the most important treasures in our house is an icon of St. Therese of Lisieux, for which we commissioned English artist and icon writer the Reverend Regan O'Callaghan. This was a gift for my mother-in-law Helen, who felt a special closeness to the Carmelite nun. Following Helen's death, the icon came to our home and now offers us not just the invitation to participate in the prayer of St. Therese and Regan, the iconographer, but also the prayers of Helen, whose own relationship with God has now been written into the fabric of this image.
We don't just use the language of icons to describe Diana's dresses, we use the word icon to describe her. She pointed beyond her own rather small life to something much bigger. I was part of an audience of 750 million people who watched that 20-year-old bride in her ivory silk taffeta marry her prince in the fairytale wedding of the century. Like her, we were so young. We desperately wanted to believe in her goodness and innocence and happily-ever-after. We were intoxicated by that particular combination of "Shy Di," savvy fashionista and soft-hearted do-gooder. For all the talk of royal trailblazing, she actually gave credence to the most timelessly shallow things about our culture – like that wealth and class are markers of worth, that we are made by what we consume and how we are in turn consumed – rather than ever offering any particularly new way of seeing the world. But as we dissected every detail about her appearance and her psyche, I would like to think that we actually got farther and farther away from knowing Diana, that in the end there was a person who wasn't sold out by her friends and lovers, a person who the public never knew, a person who was more than the display or performance that she believed was endlessly expected of her. What we really learned through our endless obsessing over her was not anything about the "real Diana", but something about ourselves. We learned how flimsy our false gods are.
But did Princess Diana reveal something of the not-false God? If icons take us to "the inner story," was there an inner story of transcendence also visible in Diana? Good things were accomplished through Diana. Those close to her have said this most publicly adored Royal was compassionate and loving, that she wanted to use her platform to help others, that she was gifted in being able to connect with the world's broken spirits and offer them a healing touch, that she leveraged part of her own self against the forces of destruction and fear to claim compassion for us all. Others have insisted the good she accomplished was self-serving, byproducts of that massive PR machine always running on the fuel of celebrity to feed her the affirmation she so desperately craved and that was ultimately never enough.
In the end, it doesn't matter which of these things is true about Diana, and like I said, I hope that there are some unrevealed corners of her life that will never be available to us to set the record straight. I hope that it's all true and that beneath the glamour and fame was a human being who was complicated like all of us.
In fact, it is in knowing this — that Diana's motives weren't pure, and she was human – that we come closer to understanding her also as an icon. Diana doesn't merely tell a story of the mess and tragedy of celebrity culture.   Diana also tells the story of a God who is powerfully at work in us, and who isn't nearly as discerning as we might think: "for God makes the sun rise on the evil and on the good, and sends rain on the righteous and on the unrighteous" (Matthew 5:45). God isn't working just through those who specifically align themselves with the divine, those who lay claim to the right religious practices and the proper religious narrative, those whose motives have been purified of the narcissism and selfishness that taints even those of us who aren't celebrities. She was created with the possibility of joining her own wounded life into the wounds of the Crucified One, she could have surrendered a measure of that heavy burden she thought she had to bear — of having enough and being enough and getting enough.
She was enough.
That is where Diana the Icon takes us, that is the inner story at work in her: she was enough. She was a beloved daughter of God. Her life did come into partnership with the Lord of Love, whether she would have defined it that way or not. And as part of whatever legacy she really has left behind these twenty years later, there are her own sons who she undeniably loved, there are the accounts of how a broken woman offered a soft touch, and how something of that soft touch broke a few of the chains of oppression that bind us. And I pray that there were countless undocumented instances of kindness and gentle power revealed in her too.
I suppose that the wave of feeling that sweeps over me at Kensington Palace is not about how Diana was good and true and I loved her. Instead she was human and I didn't know her. She was not put on this planet to hold up a fairytale for me, to entertain me and assure me that the world works toward easy romance and simple endings. Thank God. Thank God that it's not all riding on a bunch of celebrities and the people who idolize them getting the ending right. Thank God that underneath it all and beyond her entirely, there is a promise that Diana was knit together in her mother's womb, that she was known and loved before her birth and beyond the grave, that she lived and loved and died, that the One who created her loved her faithfully and was powerfully at work even through her suffering, stood vigil as she took her last breath and gathered her broken body into a final tender embrace.