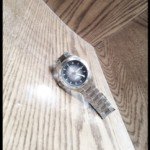 There have been many, many, many blogs and articles written attempting to define why the younger generation (known as 'millennials') are leaving the institutional church. Most of these articles attempt to tackle some point of church practice, or a perceived rigidity in current religiosity, while suggesting that Millennials have a different temperament regarding spirituality and religious practice. Millennials, it is argued, contain certain defining characteristics that make the current practices of mainline churches unattractive. It's not that what the church is doing is wrong per se, it's just that millennials think and act differently than the generations that have gone before them.
Case in point: millennials do not wear watches.
I'm not making this up. The lack of watch-wearing amongst millennials is the classic example given when describing this generation. It is stated over and over again, almost as if it is a point of scientific fact. Leonard Sweet makes this claim in his popular book Viral: How Social networking is poised to ignite revival – although he uses the language of "Googler" instead of 'millennial". Sweet writes "One way you can tell Gutenbergs from Googlers? Check their wrists. Googlers rarely wear a watch." (pg. 135) Watches, apparently like sitting on hard wooden pews, are things of the past and shunned by this more tech-savvy and less traditional generation. This fact is seen as essential to any understanding of this generation, particularly when attempting to understand their lack of church attendance, or the need to enact new models for ministry. Thus, we in the church have had to think our way through a very curious relationship between the absence of watches and the lack of church attendance. Watch wearing and pew sitting are apparently intimately connected.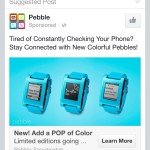 I had to laugh, then, when I saw a promoted post on Facebook which advertised one of the newest advances in the realm of mobile technology. With a tagline that read "Tired of constantly checking your phone?" the company known as "Pebble" advertised its latest product . . . a watch! Sure it may have the possibility to connect with Facebook and read text messages, but let's be honest here: it's a watch. It has a face which is able to display time; it has a strap which wraps around one's wrist. It's a watch, a fancy shamncy watch. Apparently, that which was exalted as the go-to example of what it meant to be a millennial is now seen as a nuisance.
This advertisement, however, promoted on Facebook, is not a random post from a random company trying to repurpose an old idea. The development of a mobile device that you strap to your wrist is one of newest things to hit the mobile market. Apple is launching its own version of this very idea in early 2015. The "iwatch" will hit the market, and no doubt the watch-less generation will become a watch-wearing generation and then all our definitions of who is who will come crashing down.
It may seem trite, to make such a big deal about the resurgence of watch wearing, but it is a big deal. The fact is, for years there has been a push to engage in 'new' ministries under the rhetoric that millennials are fundamentally 'different' than previous generations. There is truth, in part, to this statement, and by no means do I advocate a church which does not connect to the current culture. However, the question now is, if ministries in the church were based on certain assumptions about millennials–exemplified through the lack of watch-wearing–what does it mean for the 'new models' of ministry if such assumptions are no longer valid?
There is a common saying that states "Everything old is new again", and we see this truth in other areas of our lives. We see it in the fashion industry when old looks come back in style; Movie houses launch reboots and prequels with a varying degree of success; Instead of getting smaller, cell phone makers now strive to produce the largest phone; and apparently watches are again becoming cool.
Perhaps we need to reclaim this truth as it relates to our church life. Instead of thinking about the newest trend to which the church must capitalize, perhaps we need to dive in to some of the old, time-honoured practices that have informed the church's worship for centuries. I wonder if striving to squeeze ourselves into the jam-packed schedules of today's family has meant that we have forsaken some ancient practices like sitting in silence and meditation. Have we sought too much to accommodate the current 'diminishing attention span' that we have drifted into a style of church which moves frenetically from one thing to the next without any time to be quiet or still? Have we become so enamoured with having a 'contemporary' sound to our musicality that we effectively drown out the worship that emanates from the heart and voice of our congregations?
The danger in always attempting to address the 'newest' trend or concept is that we inadvertently find ourselves deleting some of our oldest spiritual practices from current christian spirituality. Do we know, for example, how to meditate on God's word day and night? Do we understand what it means to be still in the presence of the Lord? How do we pray without ceasing? Do we know how to come to God and listen and learn the fear of the Lord? (Psalm 34:1). If the life of our communities are never given to such things, how will Christians today ever learn or develop such holy and faith enriching habits?
I am sure there are many reasons why millennials, and others, are choosing to leave the church. And, I am sure that blogs written before this one, and better than this one, will have useful insights into that issue. I am simply suggesting that we may want to stop and consider that people may be leaving the church not because it is 'too old', but because we have thrown too much at it.  Amid all the sounds, screens and moving parts of our church life today, have lost that basic premise of coming together to worship our Lord?
If millennials can once again strap watches to their wrists, then maybe we don't need the newest thing; Maybe we need the oldest.
What are some of the 'old practices' that the church has lost? Are there other 'old traditions' that are making a resurgence in contemporary churches today?