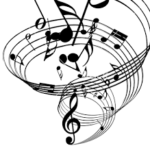 When our son was born, one of the first books that we received was the Robert Munsch classic, I'll love you forever. The book is simple and poignant. Particularly arresting is that repeated chorus running through every page:
I'll love you forever; I'll like you for always. As long as I'm living my baby you'll be. 
Even when the mother breaks into her child's college dorm room to cradle her child—climbing up a latter in an endearing yet technically criminal act, the song she sings tugs at our hearts.
Many parents have played out this scene. Personally, I know that when our own son was born, my wife would often get up in the middle of the night and get our son from the crib. She did this not to feed him, or change him, or even to soothe him. She simply longed for him with great delight. She wanted to be in his presence, to feel him close to her. Although he was unaware, asleep and dreaming his baby dreams, she would hold him, and rock him—and I'm willing to believe there was singing. To this day, those nights stand out for her as treasures; they speak profoundly to what it means for her to be 'parent' and for him to be 'child.'
This image is so powerful because it is so true, but not merely so on the human side of the equation. Can you see this reality for yourself? While you may not be a newborn anymore, can you imagine God's presence surrounding you while you are unaware? The truth of scripture is that while you sleep, or just go about your life, God comes to you. God takes you in God's own arms, rocks you joyfully, and sings. We hear this declaration in scripture:
The Lord your God is with you. He is mighty to save. He will rejoice over you with gladness. He will quiet you in his love. He will exult over you with singing. (Zephaniah 3:17)
Think about this for the moment. The Lord of heaven and earth rejoices over you. Not over what you have done, not over your accomplishments, your activity, your brilliance, your aptitudes or skill. The Lord who is present with you rejoices over you as created by God in God's own image. Because you are present in this world, God's heart erupts with rejoicing and song. Like a parent intoxicated with the smell of their newborn child, God sings. God sings because there are some joys that can only be expressed in music. God sings, and all of heaven knows the reason. You.
Just sit with this. Resist the urge to explain it or to add more words in some attempt to define or examine. This is a truth to be felt, not investigated: a joy to be received, not thought about. This proclamation quiets us. It soothes us. It refreshes us. True, it may not make the rough parts of life go away, but the joy of God, which radiates from God's own heart, brings a sense of internal rootedness. We are held up in God's love.
What would it look like for you to listen for God's joyful song over you? Imagine if you made this your first thought in the morning, as you lie in the place somewhere between sleep and dream. What if, before you rose out of bed in the morning, you repeated this verse:
The Lord my God is in my midst, a mighty one willing to save. He will rejoice over me with gladness, he will quiet me in his love, and rejoice over me with singing.
Would that change the way you view the things of life? Would it change how you view yourself?
God's song is always being sung. Sometimes we don't hear it through the noise of our lives. The turmoil of life seems can get so loud at times. There are times of doubts and questions, trouble or illness, regret and shame; So many things that can get in the way. Yet the outer and inner chaos of life never stops the singing, nor does it thwart the loving presence of God. This truth is ours to receive and live within. Although we may not always see it, although world may not recognize it, there is a divine embrace that occurs. There is a gentle rocking of our souls in love. And like a heavenly soundtrack to our lives, there is a joyful song being sung. May all who have ears, let us hear. Amen.