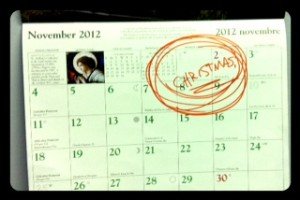 I don't know about you, but it seems like this year the holiday rush has started extra early. Since the beginning of November, Christmas has appeared to be in full swing.  Costco has displayed all their Christmas decorations.  White-bearded gentlemen entertained children in the center of our shopping malls; Even Starbucks as been decked out in Holiday Garb.  As of November 1st, frosted upon the glass doors of each Starbucks was this year's Christmas theme:  Rekindle the Joy.
Rekindle the joy of November?
I doubt that is what they meant, and yet that's what is precisely missing.  It seems that the culture of consumerism has simply skipped an entire month.  Why live in November when we can rush into the constant splurge of December shopping!  And now, with the beginning of December just around the corner, it seems like the push to arrive at the manger yesterday becomes that much more apparent. Yet our head-on rush in to Christmas removes us from the joys and blessings of God in this moment.  With our eyes ever cast toward the end of December, we fail to notice God's presence in this blessed time of waiting.
See, that's part of the beauty of Advent.  Tucked within the folds of Advent is this wonderful challenge for us to slow our lives down.  We are called to refuse the instant-gratification that comes from the gimmicks of the world.  As we live within that provocative yet powerful place of anticipation we open ourselves to the revelation of God's definitive answer to all our deepest needs.  Waiting only serves to deepen our connection with God, as we learn to depend upon God's leading.
Advent produces excitement in us as we are lead closer toward the manger,  precisely because we don't rush in.  We take the time to embrace our own sense of longing for God to be revealed.  We hold tightly that deep inner need that we have for hope, joy, peace and love.  We await those things to be rekindled in our lives, not through our premature embracing of the manger, but through that precious gift that waits on Christmas morn.
Without the joy of anticipation, how can we celebrate its fulfillment? How can we fully celebrate that gift of Jesus to us, if we never sit with that basic need to have God come ever near?  How can we see Jesus as the most profound gift of love to a dark and hurting world, if we never take the time to feel our own need for divine embrace? Advent helps prepare us for Christmas precisely because it challenges us not to arrive there until we are beckoned by the birth of our savior.
Starbucks does offer good advice, Rekindle the joy, but make sure you rekindle the joy of this moment.  Rekindle the joy found in anticipation, in longing, in waiting.  Rekindle the joy of Advent.