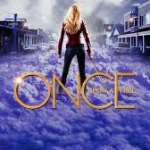 When the regular roster of our nightly television programming goes on hiatus, my wife and I turn to our attentions to our trusted friend Netflix.  We choose a television series and make our way through episode after episode.   We have joyfully made our way through every episode of Star Trek the Next Generation, and not-so-joyfully viewed all episodes of Stargate.
So, what's currently in our stream?  Well, we have begun making our way through the show called 'Once Upon a Time.'  The program has been out for some time, having premiered in 2011.  As you can probably gather from the title, this show is about the 'real-life' existence of fairy-tale characters.  Snow White, Prince Charming, Rumplestiltskin and all other inhabitants of the mythical land of the Enchanted Forest, have found themselves placed under a curse and taking up residence in a town called 'Storybrooke'. It is a unique premise, and the writers do a good job at imagining what the life of a fairy-tale princess would be like in our own world.
The show centres on Emma Swan – who is the daughter of Snow White and Prince Charming (because with moniker like 'Snow' and 'Charming' why wouldn't they call their daughter Emma?').  It is Emma who is destined to break the curse. In fact, she is often referred to as 'the Saviour.'
What I find intriguing in this program is the manner in which Emma's status as saviour is often depicted.  Emma comes from one outside of Storybrooke, and is thus unaffected by that which plagues everyone else.  In town that suffers the plague, she alone is pure.  She is spotless.  Thus, she alone is able to break that which is evil and dark, and restore the fairy-tale characters to their own lives. What is more, while she comes from outside of Storybrooke, Emma decides to leave her life in Boston and reside within the village.  She dwells within the town boarders, living amongst the people she has been tasked to save.  It's downright incarnational.
My wife and I are enjoying this series – somewhere between Star Trek and Stargate.  The premise makes for a good story – yet it makes for a better reality.  For while Emma's role as saviour of Storybrooke is merely a literary device, we remember the one who actually came to dwell amidst his people.  That which Once Upon A Time is only able to hint at with broad strokes, we celebrate intimately.  We remember how our saviour has come to us, to break the curse that affects us all.  Our saviour comes as one from outside our time and place, but who chooses to dwell in the dust and dirt of this world in order to bring about our salvation.
And the best thing, there isn't anything sappy as 'true love's kiss' at the end.  There isn't anything so melodramatic that some tale of valiant bravery and might.  There is no over-the-top heroism.  Just the act of self-offering.  The love that causes our saviour to come to us is the same love that causes him to give of himself for our healing and life.  Our curse is broken as he takes it upon himself.  It's a wonderful truth.
So as we enter into the celebration of December 25th, let us put aside all our fairy-tales wishes, our stories and tall tales, and deeply enter into the reality of that which has occurred in our world.
Come thou long-expected Jesus;
Born to set thy people free;
From our fears and sins release us;
Let us find our rest in thee.