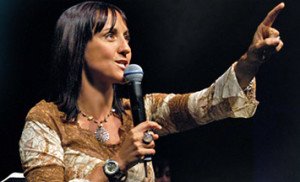 I posted on this topic last year. I was more reticent then, and have made the leap. There is some great advice there. Here's where I am a year later. 
With the strong encouragement of some parishioners, I have started to preach without a manuscript. It's scary, and weird, very freeing and, dare I say, fun? I still spend the same time preparing, but it is a different kind of preparation (a lot more preaching to myself in the car!). I am learning, and I learned a good lesson this past Sunday.
I overreact to the reactions of my listeners. As I preached about Peter walking on water and that, maybe, the more faithful action would have been to stay in the boat, I looked out and saw one man staring very intently at me, like he was trying to communicate telepathically and I just wasn't picking up the signal. Another woman who pays very close attention to our sermons every week was giving me a look I just couldn't read. Was I going to finally be called a heretic? I got nervous. I started to stumble.
If I had preached from a manuscript, I would have just looked down and plowed on. But without a manuscript, I caught myself preaching on the fly–which is not the same as preaching without a manuscript. I left a good chunk of my sermon behind in my panic. And it was really good, too.
Turns out, the woman loved my sermon and the man was trying to get me to look down to see that my tab was popping out of my collar!
Lesson: Preaching without a manuscript takes focus, focus, focus!
Other noteless preachers, what are some lessons you can share with this newbie?