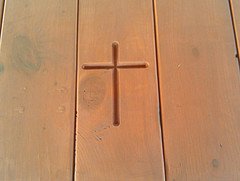 This week's readings
The readings this week remind me that Lent, along with a time to be penitent, is also a time for us to practice hope. How can repentance mean anything for us if there is no hope for forgiveness and, even beyond that, joy?
Abraham lived in hope. When having children seems impossible, the despair of having to leave all of his legacy and his riches to a servant must have been overwhelming. Why would you ever believe, after years of marriage, that children are even possible. Yet, when God makes that extraordinary promise, "Look toward heaven and count the stars, if you are able to count them." Then he said to him, "So shall your descendants be," (Gen 15.5-6 NRSV), Abram believes God. I love this verse. "And he believed the Lord; and the Lord reckoned it to him as righteousness" (Gen 15.6 NRSV). A solid belief that he and Sarah would indeed have so many descendants after years of infertility…that's hope! And God saw the righteousness of that hope.
Our epistles of late have been quite vigorous in speaking to a persecuted church. It was an age when faith in a God was held with such certainty. Today, everything spiritual seems to be up for grabs. How can we be a church that remains confident and hopeful in our good news, when we are persecuted by apathy and cynicism? Where is our hope that Jesus Christ is still the answer for our world? That same kind of confidence and hope is echoed in our gospel reading today, along with the comforting and strengthening words of Psalm 27. "What if I had not believed that I should see the goodness of the Lord in the land of the living! O tarry and await the Lord's pleasure; be strong, and he shall comfort your heart; wait patiently for the Lord."
God bless you in your preparations this week. Where is the hope you practice and preach during this season?