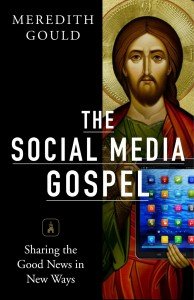 "I probably know what you're thinking," writes Lutheran pastor @Rev_David in the introduction to Meredith Gould's book, The Social Media Gospel, "…I don't have time for this." It's a phrase I've heard voiced again and again in the church: by priests and bishops, wardens and board members, and all sorts of everyday Christians struggling to proclaim the Good News in a busy and often distracted world. And yet, I think we all know that such knee-jerk reactions aren't helpful, and they're likely not entirely true. Rather, they come from a place of frustration: new tools for communication are developing at an ever increasing pace. Technology is changing social norms. And in all of that, the Church is struggling to have a voice.
Enter The Social Media Gospel. I'll admit, when I first received the paperback, I couldn't help but grin. Think about it: a series of reflections and step-by-step instructions on digital ministry, in a book. A paper book. You can't miss the irony. Gould acknowledges this already-but-not-yet paradox in the opening pages, presenting two verses:
There is nothing new under the sun. (Eccl 1:9)
See, I am making all things new (Rev 21:5)
In that light, Gould's choice to publish in both paper and digital formats is a powerful statement: social communication is nothing new, but something that is constantly being reborn. It also says something about her intended audience: this book is for everyone. It's not filled with technical language, aimed at IT professionals. It's not theologically intense, and understanding it doesn't require an MDiv.
But the book goes beyond what you'll find in the FAQs: it addresses generational differences and personality types. It explores online relationships, observing that "online communities of faith are real to members who have come to rely on them for inspiration and support," while noting the challenges of sacramental ministry. It looks at social networking strategically, encouraging us to ask why we're using social networks, rather than simply jumping in haphazardly. And while the book does explain different social networking tools like Twitter, Facebook, and Pinterest, it does so in light of social media strategy: what does each network offer? What are their strengths? When should one tool be used instead of another? Following a helpful chapter titled Yes, You Need a Social Media Policy, Gould answers the question, "so where do we start" by suggesting a communications audit, and outlining a helpful process that any parish, diocese, or ministry team should be able to follow.
Are you looking for some guidance around social media and ministry? The Social Media Gospel might be just what you need to get started. You have time for this. So go into all the world and proclaim the Good News to the whole creation. (Mk16:15)