There is something which I seemed to understand as a child but keep trying to ignore as an adult: the Christian life, for the casual observer, requires translation. Since I was raised in a tradition with a greater emphasis on separation between Church and world than I'm used to now, I expected people who weren't Christians to see the world differently. I simply assumed that some of the things I did would appear foreign and require an explanation.
Recently, however, I was on my way to a fundraising dinner for a new boiler at our church and was shocked when a student remarked, "Man, I feel so sorry for religious people. They're always being asked for money." What?? I thought to myself. Doesn't he realize that the Church is a family, that we're taught not to see our money as our own, that this is as much about building community as it is about my pocketbook?
Mulling this over, I realized that there is a sense in which, as a Christian, I'm living in a different world from my students who aren't part of the Church. As a kingdom-citizen, I've been called to see the world through different eyes, to subscribe to different kinds of goals and values which sometimes make no sense at all to the casual observer.
What I'm learning o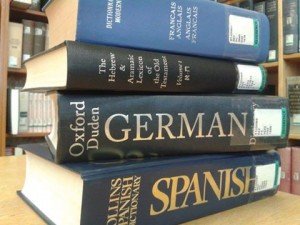 n campus, however, is that it isn't enough to believe in the coming Kingdom, to tithe my paycheck, or to submit my days to seeking justice, loving mercy, and walking humbly with God. No; the way we see the world as Christians needs to be translated. And, I hate to say it, but we "religious people" tend to be pretty sorry translators. You know those signs translated into English in another country which make no sense at all? I fear that, sometimes, our attempts to explain why we do what we do appear just as ridiculous.
Christian translators, in my experience, have the tendency to fall into one of two categories. Either they don't actually speak the language of the listener and end up calling a bible a toothbrush, (and I've run into many of those in my day!) or they don't speak their own language well enough to explain it to anyone else. In my hurry to avoid the former category, I have sometimes been guilty of pretending we all really speak the same language after all and no translation is required.
Yet as we approach the season of Advent, I cannot deny that I am speaking a different language from many of my colleagues and students. I declare that I am watching and waiting for the great Hope of the Nations, pushing off the whirl of the season to sit in silence with a pregnant Virgin. My Christian students join me just as they enter the busiest time of the semester. A new world is coming, we tell the world, one which was born 2000 years ago but will soon come in its fullness.
It makes no sense at all.
How will the world know of our great hope if we do not tell them? How will they hear us if we do not speak their language? Only the art of translation will welcome them home to this great story.