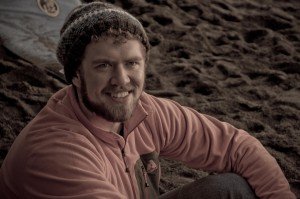 Like many, my path to climate activism began in the outdoors.
As a young boy, I grew up along the coast of Vancouver Island and in the rolling hills and orchards of the Okanagan Valley. My family and I spent our summers camping, cycling, golfing, swimming, and enjoying the gifts of God's creation. I developed an intrinsic connection to the outdoors, which I wanted to share with my peers.
By the age of seven I was already, by nature of my hobbies, an environmentalist. While it would be years before I would begin to stand up and take action on environmental issues, my childhood outdoors experiences were formative in shaping my identity and my faith.
In 2007, however, that all changed. The Intergovernmental Panel on Climate Change released its landmark report illustrating the deleterious impacts of climate change, and a world beyond 2°C global warming. Meanwhile, I entered my first year of International Development and Globalization at the University of Ottawa. Both events had significant impact on my outlook and involvement in environmental work.
While I grew up in a house dedicated to the tenets of social and ecological justice, I had mistakenly understood climate change as something that solely impacted polar bears and icebergs—not humans. Suddenly, I was introduced to the concept of climate justice: a theory that reframed climate change and environmental degradation about justice and equity for all peoples.
Indeed, I had (and continue to this day) lived a very sheltered and privileged existence, and was unaware of the scope of the global ecological crisis. While the effects of climate change were present in my life – from changing snow pack as a child, increased forest fires, and the mountain pine beetle – few, if any, would directly impact my personal life. Understanding climate change as a human reality, and as one that would disproportionately impact the Global South, fueled me to take action and become involved.
As a student I was incredibly fortunate to be surrounded by countless opportunities for engagement. My community, both on and off campus, was filled with some of the most prominent and respected organizers in the country—something I had never known. This diverse, and incredibly talented, group of people came from many walks of life, and to my surprise a high percentage were people of faith. Many of us shared similar spiritually enriched upbringings – some purely outdoors and others through organized religious institutions – and we all shared a common conviction for creation care.
While it was never my intention, my work on environmental justice has strengthened my relationship with God, and brought me back to church. After a few years of disinterest and resentment towards the church, I have found myself increasingly involved with its work; specifically, the Anglican Communion's 5th Mark of Mission, "to strive to safeguard the integrity of creation and sustain and renew the life of the earth."
My hope, for this blog, is to share topical issues and struggles around creation care. I want to highlight the good work being done across the ACC, as well as the Anglican Communion Environmental Network (ACEN)and share these good news stories. Further, I want to use this space to highlight areas of improvement and growth as a church and a global community. Caring for creation is a journey, and one I would you like you to take with me. There is much to do, and much we have much to learn from one another. I encourage you to check out the ACEN's Carbon Fast Blog to read more a series of reflections from members of the ACEN during the season of Lent.
How do you care for creation in your daily life, and what does it mean for us to "care for creation?"