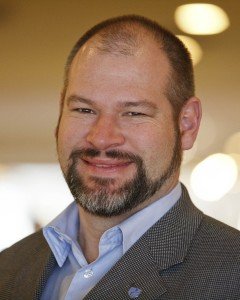 Twice a year, senior stewardship staff from across the province, General Synod, the Evangelical Lutheran Church in Canada and the Diocese of Montreal gather for what we affectionately call our noon-to-noon gatherings.  These meetings play an important role in helping us identify trends in giving, organize stewardship related events and network with one another. The greatest benefit that I experience  is the sense of shared journey with my colleagues in the church.  I always come away feeling rejuvenated about the important stewardship education work that we do to help fulfill God's work on earth.
At a previous meeting, Jim Newman, my retired counterpart in the Diocese of Niagara, shared some interesting statistics about giving patterns.  After analyzing church warden's returns spanning several years he found that nearly 30% of givers are responsible for about 70% of all donations, many parishes depend so heavily on two or three donors, and close to 1/3rd of people listed on parish roles each year give no financial offering to the church.
The Reverend Canon Andrew Asbil, Incumbent at Church of the Redeemer, believes every person who comes to church should give something: "not just because we live in such a blessed country with untold wealth, but because we are called to be givers."   Andrew has probably spoken about stewardship more than I have and he is amazed that people still find reasons not to give.  So am I.
Over the years I have heard almost every excuse that exists for why people can't or won't give, the ten most common that I encounter include:
I don't like the church's position on….
I have nothing to give
I'm on a fixed income
My gift won't make a difference
Our parish is going to close anyways so there is no sense in supporting it
 I'm saving for a ….. and can't afford to give right now
It's not my responsibility to pay for the upkeep of the church
I've given all my life, ask someone new
The church has mistreated people, they don't deserve my money
I give enough through my time and talent, my treasure is mine
Each one of these excuses comes from regular attendees and reflects a very narrow understanding of what it means to be a disciple of Christ.  It's as if church is merely theatre – and they are there to be entertained.  To make matters worse, if they were to go to any other type of theatre, giving would be obligatory at the entrance – and you would be expected to pay more for the seats closest to the front.
There is a solution to the current underperformance in giving.  In his book, Your Church Can Thrive, The Reverend Canon Harold Percy states that "the failure to make disciple-making a priority is the basic cause of our current malaise and stagnation.  It is the primary reason our local churches so often lack excitement and vitality."  This misunderstanding  of discipleship is manifest in biblical illiteracy, lack of a meaningful prayer life and a disengagement from parish life.
I am convinced that many lifelong, well-meaning Anglicans don't give because they are unfamiliar with what it means to be a Christian.   If you understand the very tenets of our faith then giving is merely a by-product.  We give because a generous God gave use the free gift of life.  We give because the model of generosity has already been laid out for us by Christ's own example of service.  The church needs all of us to be joyful and generous givers in all walks of life.  It is an invitation that is central to the calling of a Christian.