2014 Targa Newfoundland is finally here. Our dedicated Racing with the Reverend team has been planning for the last year to compete in this international Motorsport event. This is not for thrills, although we have had some. This is for the 89 children in the province of Newfoundland and Labrador whose names are recorded on the roofs of our two Scion cars. We drive competitively in the Grand Touring (GT) unequipped class for these 89, their families, and countless others affected by Autism and Autism Spectrum Disorder (ASD).
We compete for this reason, thus our mantra starts, "We are not racecar drivers." We compete after being forged by Christian community, through the Parish of the Ascension, Mount Pearl, NL: Thus we end our mantra, "God is in control."
We are not the only teams. We field two teams, of ten in our class. We are among  38 teams from all over North America and the Caribbean.
We have lofty goals: To raise much needed funds for the Autism Society, NL, to advocate and create awareness for those with Autism and ASD, and to compete at our highest level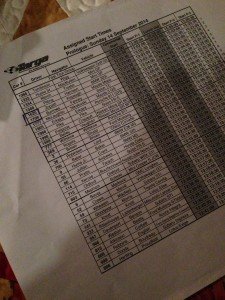 , hopefully bettering our scores of first place in our class and fourth overall in 2012. But we are but one of many teams. Our partner team has the same first two goals, and a further goal is for them to finish all stages and have a wonderful time.
As in 2012, I am amazed by people that compete, and the different walks of life from which they come. There are professional drivers, amateurs, wealthy, mechanics, newbies, couples, many brother teams, retirees, and so on.
Each come with different goals. Yet I'm sure each come with lofty expectations. In one sense, my co-driver Jason and I were a bit too confident this year. Having one Targa under our belt, we feel perhaps we don't need to pay that close attention? Not so today. Although we had favourable weather, we had odometer issues, we had the challenges of getting back into our 'groove.'
Other teams have come with their own expectations and commitments. There are persons here with vehicles that cost twice as much as my first home. There are those that have come driving their own commuter vehicle, with no modifications.
In each of the drivers, with each of the teams, I offer prayer for safety, for their enjoyment of this experience, and for all those in the various communities that we will encounter over our 1800 km trek this week.
In particular this night I pray for one of the fast tour teams who crashed on stage three of the prologue All the excitement, preparation, expense, and planning has stopped for this team. I pray their trip to the hospital was precautionary; I lament their pain as they look at the remains of their vehicle tomorrow.
We are not racec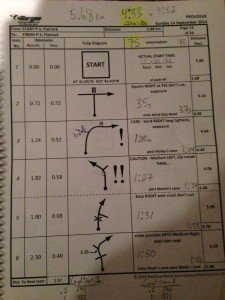 ar drivers. We drive in community with those affected by autism. We drive in community with each of these other teams, professional or amateur, hoping beyond hope that they will see the presence and love of God in our actions. We drive in community with these other teams; I hope and pray that in my encounters with them I will see more of the face and love of God.