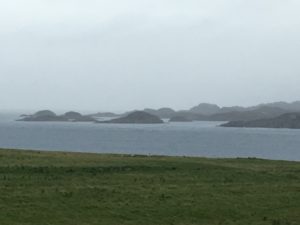 Three weeks ago, I went with friends and strangers on a pilgrimage to Iona. As I settled in on the island, and explored the community, the liturgy, and the space, I heard of the lore of the island. It is not unlike Newfoundland and Labrador, and surrounding isles.
It is out of the way, requiring a ferry to reach the destination. Outlying islands are home to puffins, while minke whales can be seen in the surrounding waters.
It is an ancient isle, with ancient stories and songs, such as the "Iona Boat Song":
This is a song sung for kings, abbots and knights, as their family and friends took them on their last journey to their final resting place. Most of the ancient burials are in St. Oran's Cemetery. Original tombstones (now relocated in abbey and museum) represent the deceased, and tell in visual form some of the valour, exploits, and stories of their lives.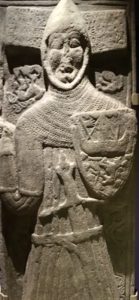 As I entered into the holiness of that time in Iona, I considered prayerfully how this community honoured their loved ones, told their stories, and upheld the presence of God within the community throughout the centuries of its existence. Faithful and faltering women and men, monks and nuns, monarchs and peasants lived, breathed, prayed, worked and died in the presence of God. As I saw stone after stone, I wondered at the images, and how they represented the story of each of the individual lives.
Now that I am back in Newfoundland, I am slowly entering back into my rhythm and pattern of life and ministry.
Our community has been rocked this week, with the death of a much-loved leader. Corporal Trevor O'Keefe died by suicide, after suffering from PTSD. We all mourn in so many ways, struggling to come to grips with the challenge of the reality that he has died. Loved ones, colleagues and neighbours grieve openly. There is a stunned silence present in the community, as we all reel in the shock of a public leader, dying by his own hand, now separated from those who loved him so much and wanted him to experience such wholeness and healing.
In our context, it will not be an Iona boat song, nor a carved tombstone that tell the breadth of Trevor's life and his impact among us. The song would need so many stanzas of the caring work he completed as he responded, advocated, and defended those in his care.
I worry that for some, the challenge of PTSD, suicide, and mental illness will be paramount, swallowing up the full essence of a man who was so deeply loved. It would be as if the Iona tombstone for him would be marked by horrible imagery and pain.
I worry that for some, the story of Trevor's life, if marked on an Iona tombstone, would only reveal the surface highlights of a distinguished career, happy moments, and good times.
The engraving of Trevor's life, is to be sung by all in our community—a song of pain and joy, a song through pain and joy, revealing the difficulties that many face who are first responders. His life and vocation is marked because he stood between the community and the pain that he witnessed.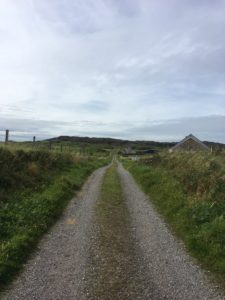 Trevor is in the arms of God, embraced by the creator who deeply loves him, and has loved him from the very beginning. God's embrace will never let him go, and we are called to hold on to that reality.
Today, as I lead in the liturgy with a dear friend and colleague, together we will mourn with Trevor's fiancée, family, colleagues, friends and community. I will hear the "Iona Boat Song" once again. I will accept that as a community we need to hold this time, listen to the pain, and move into a place that will acknowledge and reveal the real pain that people endure when facing chaos, stress, anxiety, and loss. We also need to sing through this reality, so that all others, loved and charged in positions of leadership as first responders, receive the support, expertise, and care that are so desperately needed.
As I move away from the liturgy, I will sing once again a song of hope, even in the distress and challenge of our communal grief.
Sing, my soul, when hope is sleeping,
Sing when faith gives way to fears;
Sing to melt the ice of saddness,
Making way for joy through tears.
Sing, my soul, when sickness lingers,
Sing to dull the sharpest pain;
Sing to set the spirit leaping:
Healing needs a glad refrain.
Sing, my soul, of him who shaped me,
Let me wander far away,
Ran with open arms to greet me,
Brought me home again to stay.
Sing my soul, when light seems darkest,
Sing when night refuses rest,
Sing though death should mock the future:
What's to come by God is blessed.
(c) 1988, 1996 WGRG The Iona Community, Glasgow, Scotland.