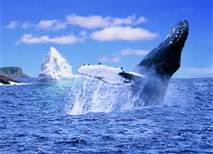 In this province over the last two weeks, there has been much activity and excitement with the advent of summer. Bird, whale, and iceberg tours are in high demand, as more and more tourists arrive from around the world to see the beauty of this province in summer. Tourism has adapted in various ways, as websites track icebergs http://www.icebergfinder.com/iceberg-map.aspx  and there are daily updates as to the whereabouts of whale pods, as humpbacks come for their annual visit http://www.obriensboattours.com/ . On the Avalon Peninsula, it seems that the entire region is caught up in the joy and wonder of summer, and the regular routines of life are stopped for this perennial encounter between tourist and local, creation and civilization. Activities and events occur that happen only in the context of summer. Business hours of operation are extended, and the whole area responds to the intensity of the summer season.
This busyness of the tourist season reminds me of annual ministry activities in parish life. There is a time for every matter under heaven, Qoheleth reminds us.  Ministry and mission activities are not unlike the relationships between tourist and whale, adventurer and iceberg.  There are many in parish life that I see fleetingly during the calendar year. They are present for the annual summer children's program or they come for advent Christmas Pageant rehearsals; they occupy themselves with ministry during Lent and Easter or they engage in Thanksgiving and Ascension activities. These persons some refer to as simply 'CEO Christians' (Christmas Easter Only).
This is the challenge of life in Christian community, a community in which we have individuals and families that are at different stages of their life and spiritual journeys. Some parishioners are concerned with the infrequency of worship and ministry attendance, and they perhaps bemoan the periodic involvement of persons within community life. Others rejoice when people make time and commit to be a part of mission and ministry in any way.
These are the challenges of an ever diverse community of faith. We have different expectations and assumptions with regard to mission and ministry, and we sometimes grieve or grumble when others do not see nor respond to our worldview. I believe that though it is sometimes hard, we must embrace and engage persons even if the expectation is that they be present for only the briefest of times. As the flowers bloom in the arctic tundra, they may be brilliant and plentiful, if for only a short while.
When the whales have headed further east, and the icebergs melt, the land and the people of the province will still be here. We may not see as many tourists nor have encounters in the same way, yet through the changing seasons, the community will remain. Therefore let us embrace then, all that happens, be it short or long, and continue to bring the message of God in Christ Jesus as we live and move.