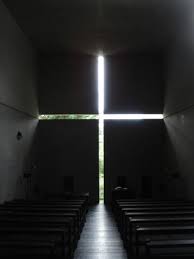 These past days of eastertide I have been reacquainting myself with the outside world.  I realize that I do a whole lot of thinking, examining my experiences, delving inwards and making many observations, judgements and the like.
Much of this thinking, pondering, and writing is done in a very stale, almost clinical environment. I have direct contact with office space, liturgical space, automobile and home space that is so familiar to me that I have become a little immune to the nuances of each.
Easter in all of its fullness has offered an explosion of the senses. There are smells, sights, sounds that are different. Each of these stimuli resound with the cry 'Hallelujah,' even if silent. Creation and church are echoing the experience of resurrection in all that I experience.
In all of this, I picked up a book on architecture, and found myself thumbing through the works of Tadeo Ando. Even without being present within his architectural wonders, I found myself enthralled by the challenge that he offers to heighten the senses, in his Church of the Light, and Church on the Water.
I imagine that I am like blind Bar Timaeus in so many ways. I cannot experience all that God has in this life because I only focus on the things that make me comfortable, the things that I can explain, the things that bring me joy.
The routine nature of my experience may contribute to me missing the presence of God. The routine nature also contributes to me forgetting much of what is important in life.  I believe that my most profound learning has occurred when I have endured hardship, when I have encountered disagreement and conflict, not when I have been completely at ease.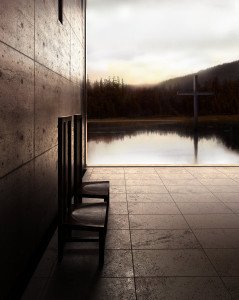 The path of my learning has been most profound when it has been enveloped in passion, and engaged in com passion with others. It hasn't happened when things have been easy.
This Easter, as I march steadily toward Ascension and Pentecost, I hope that my experiences are not easy. I hope and pray that my senses are stretched, prodded, overwhelmed, and exhausted.
I hope that I learn, grow, and respond to the presence of Christ in touch, sound, taste, smell, and hearing.