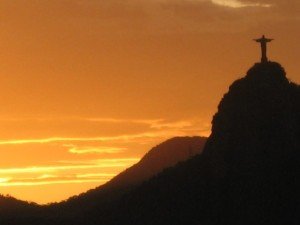 I recently attended a dinner party at a friends' house. We shared a lovely, casual evening – great conversation, great food, perfect weather. The kids played, the adults (all churchy folks) talked church.
We chatted what we love about being church, what challenges us about being church, what struggles we have with the institution of church. It was enjoyable and uplifting.
We came together from a variety of parishes, of experiences of church, of theological backgrounds, of areas of focus. Despite the numerous differences, a commonality that was clear was our love for God, and our love for church.
It hadn't been intended to be a distinctly theological evening, but it moved organically in that direction. The conversation ebbed and flowed around how being the people of God matters to us, how we respond to that familial designation, and how we can better improve our worship and witness.
One phrase stayed with me: Holiness matters.
Well, of course it does, we might say. That's obvious.
But what stayed with me, and has been growing within, is wondering how much we integrate that reality into our daily lives. How do we take seriously the role of holiness into our everyday life? How are our lives impacted and influenced by the grace we have been given?
This is not a new struggle; it is one that the church has been addressing since the early church: "As he who called you is holy, be holy yourselves in all your conduct." (1 Pet 1.15)
Yet we still struggle with it – despite biblical encouragement, despite millennia of theological discourse, despite (hopefully) helpful sermons on the topic.
I struggle with it, daily: I don't seek the Christ in everyone I encounter, I don't read the scriptures as much as I ought, I pray for what I want instead of what God wills; basically I get caught in the earthly here-and-now shiny objects that keep my focus off of God, that keep my attention on the profane rather than on the sacred.
Yet holiness matters.
It matters during worship, it matters during BBQs with friends, it matters during household chores.
It matters regardless of our worship style, or building, or community.
Holiness matters. And it is our responsibility as Christians to find ways to express this, not just on Sunday mornings at 10, but every hour of every day; not just as words, but as actions; not as an after-thought, but as a determining influence in all we say and do.
Holiness matters. It's up to us to show the world how much it matters in our lives. How we do that will differ – it will be as unique as each of us are.
And so I pray that we might all experience those holy moments that will inspire us to share the peace and joy of the Lord in exciting ways, living our lives in the hope and utter delight that comes from being the family of God.
I pray that holiness matters to all of us, in every aspect of our lives.