I was picking up a few groceries in the local shop the other day, and as chance had it I was checked out by a staff person I've had challenges with before. The challenges are over bags – I bring my own reusable bags to the shop and try to avoid any unnecessary bags.
Th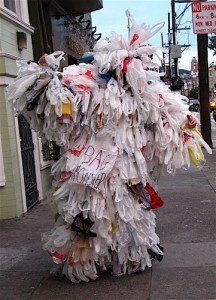 e last time I was in this person's line, I was scolded for having 2 bell peppers without having put them into a plastic produce bag. When I tried to explain that with only 2 peppers, I could avoid the wasteful plastic bag and not cause any challenge to the system, I was admonished not to do it again. The time before that, I had asked her not to put my onions in a plastic bag prior to placing them in my reusable bags, the response was that as they did not like onion skins everywhere, they "had" to put them in a plastic bag. In this person's line, there are MANY things that need to be put into separate plastic bags before they can be purchased – whether or not they are already packaged in plastic – soap, dog treats, etc.
So, standing in this person's line this week, I glanced in my basket and didn't see anything that might initiate conflict. I was wrong. The staff person grudgingly acknowledged that I had brought my own bags, then proceeded to dramatically place my bananas in a paper bag before placing them in the carrier bag.  When I commented that I neither needed nor wanted them to be in that bag, I was called "that [crude adjective] bag lady" and the bagged bananas were dropped into my bag. I was stunned, so much so that I didn't react to the crudeness, the insult, or the blatant denial of my request.
What bothers me most is that I have good reasons for not wanting extra bags. I see part of my Christianity being expressed through care for creation: I've studied and taught eco-theology, I adore the Marks of Mission for the environmental focus, I consider the created world to be a neighbour I vowed to love as myself in my baptismal vows.  I know the benefits of avoiding plastic bags (have you seen Jeremy Irons narrate the 'Heal The Bay' Mockumentary "The Majestic Plastic Bag"? Worth 4 minutes…  https://www.youtube.com/watch?v=GLgh9h2ePYw ). I know the benefits of avoiding paper bags (have you seen Leyla Acaroglu's TED talk? A great 6 minutes… http://talentsearch.ted.com/video/Leyla-Acaroglu-Paper-or-plastic;TEDSydney ). Hence bringing my own reusable bags. It's not a perfect solution, but it's something I can do to make a difference.
I know the bag issue has been politically charged; some places ban them, others charge for them. Some shops and/or staff encourage the reuseable bags, some offer rebates for bringing your own bags, some force their brand advertising to be carried by the consumer.
I also know that I will continue to be true to myself and my faith by bringing my own bags – some are home made, some are store-purchased (though usually turned inside out to prevent free advertising).  I'll stay out of the debate while I make my purchases, and stick to my faith-based convictions against excess packaging. If that makes me the bag lady, so be it.