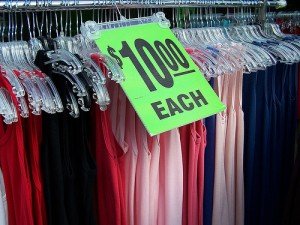 I like a deal. I'm a bargain hunter. I wait for sales, I comparison shop, I buy from second-hand or used- shops. Some call me frugal, some call me 'fiscally prudent,' some call me cheap.
As much as I like a good deal, I try to make sure that my purchases are ethical. A $10 t-shirt may seem like a great deal, but what is the real price of that shirt? Is it worth it?
This morning the world learned of yet another garment-factory fire in Bangladesh; in the past 2 months almost 120 people have died and countless have been injured; over 600 people have been killed in fires since 2005. We learn of horrific working conditions: cramped spaces, long hours, buildings with only one or two exits that are literally locked once the workers are inside. The human rights issues are scary, and abundant.
And we are learning of the brands that are contracting (or sub-contracting) to these factories – often these are not inexpensive for us, on sale or not. So we know there's someone getting rich off of this modern-day slavery.
Yet, our society continues to support this structure – by buying these things, we're telling the market that we want them to make more; that we'll continue to pay for more; that they should continue to find ways of making more – no matter what.
So how should we respond? How are we, as Christians, to engage this reality in a meaningful way?
I think we need to examine our baptismal vow to respect the dignity of every human person. If we mean that, then we simply cannot support a system of inexpensive goods that is based on unethical means. We have a responsibility to learn where our goods come from, how they were made (there are MANY stages and loopholes in tracking garment production), and who is profiting from them.
Sure, it's easier to claim ignorance and enjoy a seeming good deal. But we know better. We know the system is flawed. We know that our 'good deal' shirt may have been made last month by a person who died this morning; that our purchasing this shirt is supporting the system where these tragedies continue to occur.
As Christians, we have to live out that respect for our brothers and sisters. We can choose to pay a little more money and buy brands where the workers are receiving fair wages in safe(r) working conditions. True, we may not have as many shirts sitting in our cupboard, but the ones we have do not burden us with guilt. When we make ethical purchases, we are acting in solidarity with the workers. We are proclaiming that we care – even though we may never meet them. And we are showing the world that we believe we can make a difference, by staying with those things that really are Good Deals.
Have the recent garment fires in Bangladesh influenced your purchasing decisions? Are you willing to pay more for ethically made clothes? Do you think this is a Christian issue?