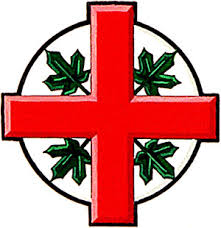 This weekend the Council of General Synod has been meeting in the Greater Toronto Area. The Council, or CoGS, has been a blessing of our national church.
The Council is made up of people from every ecclesiastical province, laity and clergy and bishops, rural and urban, indigenous and non-indigenous, men and women, young and those of a "finer vintage", and representatives from partner organisations. Members of Coordinating Committees are also here (the blessed folks who coordinate the work of the General Synod). The workers, those who make everything happen behind the scenes, are a rather busy group that's also seen here (though usually running from task to task!)
It's a big meeting. At it's most basic, it's the meeting where the business of the church happens  (between meetings of General Synod every 3 years).
But that doesn't embrace what is happening here. Sure, business is happening, but something MUCH more can be felt around the room. The Spirit is moving.
Of course the Spirit is always moving, but this body has made sure to make intentional time and space to celebrate that movement. And it's good.
This body has difficult decisions to make, and is having some conversations that require diplomacy and compassion. And the Spirit is moving.
This body is addressing motions that will have am impact to shape the mission and ministry of the church, and there is careful consideration and love that is fuelling the conversations. And the Spirit is moving.
This body is made of people with a tremendous diversity of experiences, theologies, passions, foci; gathering together with love and commitment. The days are long and  the work is tiring. And the Spirit is moving.
There have been presentations that have made us laugh, that have made us cry, that have challenged us, that have encouraged us to seek out and share the good news of ourbeloved church. And we know that we cannot do that alone, we need to be moved BY the Spirit.
And the Spirit is moving us.
This is my first time attending CoGS, and it is an incredible honour to represent the PWRDF at this function, sharing the good news from that body with this body. I have been delightfully amazed at what I have seen and heard from other presentations. A balanced budget brings delight, a re-imagined Anglican Foundation brings hope. The 20th Anniversary of the Anglican Church's  'Apology to Native Peoples' in the midst of so many who were present at that time has truly a celebration of faith and (ongoing) healing.
This gathering has been a great time where prayer is offered regularly, where worship is a priority. The dedication to mission is inspiring. The abundance of grace has been present across formal and informal times together.  The Spirit has definitely been moving, and for that I give thanks.
As I reflect on this meeting, I believe that God intentionally brought us all here to CoGS to serve in our various capacities. I believe that the church will continue to thrive in its mission – not as a result of any or all of the people who are gathered together, but because we are here in faithful response to the movement of the Spirit amongst us.