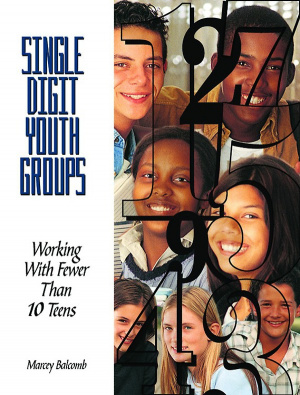 It's sad, but for many churches, the most referred-to youth ministry book is entitled "Single-Digit Youth Groups." Perhaps it's because all too often we can see ourselves in its title. It has clear and broad applicability for small churches like ours.
This is a book that's been recklessly promoted throughout the Anglican Church. You'll find it at conferences, featured on the shelves of well-meaning booksellers, and recommended on many youth ministry blogs. As for me, I wish it would just go away.
Perhaps unsurprisingly, there's something about this situation that doesn't sit well with me. It's a bit too bleak for my taste. When I spend too much time thinking about the future of a church that celebrates Single Digit Youth Ministry, I get depressed.
Is this all we're shooting for? Is this all the imagination we can muster? Are we really that defeatist? Why do we set our mental barrier at 9 young people? Have we forgotten how to dream? Have we forgotten why we're doing this in the first place?
I have no trouble affirming that youth ministry is about more than numbers. Yet whether there's one young person in a congregation, or whether there are many, we are often slave to numbers. We either use them to tell ourselves that "everything's alright," or that there's "something rotten" in the state of youth ministry.
We are not our numbers. We need not be captive to them. We find our primary identity in Christ, and the mission to which God has called us. What we are called to, beyond the numbers that enslave us, is to enable people to know Jesus Christ, live and share the good news, grow in faith and serve God's world.
We are called to minister to young people in our midst, and to take the gospel to all who might be in need of a little good news (whether they happen to come to our churches or not).
Forgive my bout of evangelical fever, but if there is good news to be shared, why are we not sharing it? If this is good news for all people, why are we so frightened of ministering to more than the few children of families who currently attend our church? What is it about our understanding of the gospel that leads us to be so reserved?
We may not have tens and hundreds of young people flocking to our churches on a Sunday morning, but that shouldn't stop us. It shouldn't stop us from exercising our ministry (as if Sunday morning worship is the only place where ministry happens).
As Christians, our mission and ministry ripple outwards from the Eucharistic table. If these ripples do not go past the walls and doors of our church buildings, I fear we have somehow missed the point.
I once heard Bishop Sean Rowe from the Episcopal Diocese of Northwestern Pennsylvania suggest that the best approach is not to get bogged down by the barriers to change. Instead, he suggested, we need to find ways to "flip the dilemma." Treat a roadblock as an opportunity. Let it redirect our attention. Follow the energy. Step out, take the risk, and do something.
But if we try something new, we might fail. That scares us. It holds us back. Yet we worship a God of extravagance who sows far and wide. We read the story in Mark's gospel of seed being cast with wild abandon on all kinds of seemingly inhospitable soil.
Doesn't the farmer know he will fail? He probably does. He knows not all these seeds will take root and grow into healthy plants. And yet he spreads the seed anyway.
I wonder what it might be like if we ministered amongst young people with such wild abandon. I wonder what would happen if we were willing to sow the seeds far and wide, and refused to limit ourselves to the boundaries of yesterday's models for youth ministry.
What might happen of we, like the sower, spread the good news with such reckless abandon? What if we saw our ministry as existing beyond the few young people who currently show up on Sunday morning?
Do we have in mind the possibility that our ministry amongst young people could expand? Are we willing to invest time and energy and money in more than babysitting the few youth who come? Are we willing to focus our ministry outwards?
The good news is, there's plenty of help out there. You're not alone. We have one another. I've seen parishes working together to accomplish more than they can ask or imagine. I've seen youth ministries that go into the wider community to connect with young people through cooking classes and drum circles and bible study and social justice.
Maybe your church is dreaming new dreams. Maybe you're asking how your youth ministry is good news for the community in which you live. That's a great place to start! Whatever help our national Youth Initiatives Team can bring – whether as a sounding board, a connector, or folks with fresh ideas – please be in touch.
We can't wait to dream with you as we plant seeds for an abundant harvest.