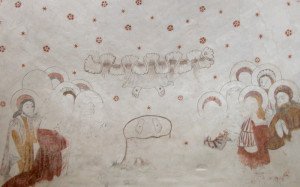 The Anglican Church of Canada has seven principal feasts. Can you name them all, real quick? Christmas and Easter leap to mind; Epiphany and Pentecost may follow without too much thought. Trinity Sunday , All Saints' Day, and Ascension Day lag a little behind in the memory palace.
One thing I find interesting about this list is that all but two are on Sundays, or can be celebrated on Sundays. Easter? Always a Sunday. So too Pentecost. Trinity Sunday, rather a give-away. Our calendar notes that "All Saints' Day may be observed on the Sunday following 1 November, in addition to its observance on the fixed date,"  and that the "feast of the Epiphany may be observed on the Sunday before 6 January" if the sixth falls on a weekday. That leaves just two on fixed, immovable days. The twenty-fifth of December is indelibly marked as Christmas Day, and so many Anglicans attend church—well, or quite late the night before.
Left in the dust is the feast that we'll keep next Thursday, May 29, 2014. The feast of the Ascension, commemorating the moment that Jesus ascends into heaven, having reassured the disciples that this is necessary and that he'll send the Holy Spirit. Some of our Orthodox sisters and brothers refer to this feast as the 'culmination of salvation'—and yet, it's often overlooked. Happening forty days after Easter, it always falls on the Thursday before the Seventh Sunday of Easter.
I wonder if it's time for us as Canadian Anglicans to ask some serious questions about how we keep this principal feast. Attendance at weekday Eucharists is on the wane in many places. Given that there's provision to keep two of the other feasts that aren't necessarily Sundays on a Sunday before or after—is it time to wonder the same about Ascension Day?
There are problems with such a proposal. One is that moving it to the Sunday before or after its actual date, we'd lose a significant chunk of the Easter reading cycles of the Revised Common Lectionary. Moreover, if we move it to the Sunday after, we would have three principal feasts on three successive Sundays: Ascension, Pentecost, Trinity, crammed together like Timbits in a box. But if we don't do something, even with teaching about it, is it really a principal feast if it's observed by so few people?
I've found myself musing about transferring Ascension to the Sunday after every other year. Though complicated, it has a useful pattern to it. If we started that next year, we'd see the following:
2014: Seventh Sunday of Easter (Year A)
2015: Ascension
2016: Seventh Sunday of Easter (Year C)
2017: Ascension
2018: Seventh Sunday of Easter (Year B)
2019: Ascension
…and then the pattern repeats in 2020 and following. Over the course of six years, we would hear the fixed Ascension readings three times, and hear each of the year A, B, and C readings on the other three years. We lose less, and I think we gain more.
Perhaps, in addition to wrestling with how to make the spiritual significance of the feast accessible, and reveal the good news of God at work in post-Copernican times, it's time to change this aspect of our shared calendar.