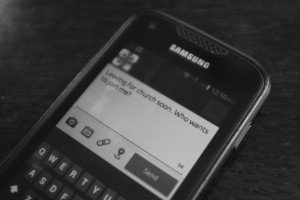 (Originally posted as Social Media Sunday: June 29, 2014)
Social Media Sunday. It's a thing. Or at least it could be, this June, in your parish.
Hear me out: this isn't just another gimmick intended to attract young people. And it's not another lame attempt to be hip and modern. Rather, it's a simple challenge that asks all of us to make a connection between the tools we use to communicate with our friends and family, and communities that feed and sustain us in our faith journeys.
Think about it. If you use social media, chances are you provide your network with all sorts of updates about your daily life: family events, travel photos, creative expressions in the kitchen, funny cat videos (don't deny it). But what about your faith? What about the challenge to proclaim the Good News of Jesus Christ?
#SMSunday makes that connection. As Church Marketing Sucks describes it,
Social Media Sunday is a way for people of faith to share their story and invite others to come and see.
What does that look like? It could mean live-tweeting or making Facebook updates during the sermon. It could mean call-and-response prayer. It could mean including worshippers outside the church building. And if that offends you, remember: it's only one day. And if it still seems extreme, then consider giving some updates and invitations on your way to church, sharing some photos from coffee hour, or reflecting on the service after the fact.
Social media is not going away. And in many ways, it provides those we know with a glimpse into our lives. Why not invite them into your church?
What do you think? Do you have any ideas for Social Media Sunday?