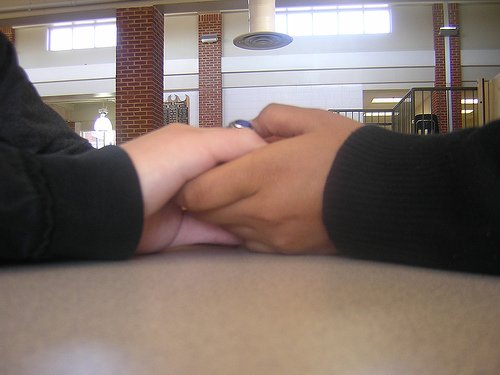 I've spent a lot of time this past week doing pastoral visiting in hospitals and care homes. I freely admit it's not the thing I do best, but it's a part of my job/vocation/ministry, so out I go. I'm aware that these are the folks who cannot make it to church (as opposed to the ones who choose not to come – for various reasons), and so I know that sometimes my presence is the only time they see a cleric. They see the church in other visitors, but for some folks there's something really special about the visitor who's wearing a collar.
I have had some great conversations this week. Some folks I visited chatted about funeral plans, others wanted to know about the latest gossip around town. I had one gentleman interrupt the care home bible study this morning to ask if the Gospel was a good police story (I told him it was a good belief story), and had a women query me about how to respond to her granddaughter's latest rebellion of wanting a tattoo (I assured her that not everyone with tattoos is bad – she wasn't convinced until I showed her some of mine!).
Some of the visits were long, some were short. Some folks had their families there, others were alone. Sometimes we shared communion, sometimes we shared jokes, every time we prayed. Part of the reality of these visits is that I never know what I will get when I do them – I helped explain someone's medical test results in one visit, and the next visit just held a lady's hand as she faded in and out of consciousness. I smiled and listened to one man tell me the same story multiple times, and then (tried to!) help another man with his advanced level crossword puzzle. Making visits means being prepared for anything. And it can be mentally and emotionally tiring.
But as tiring as it may be, it is spiritually uplifting. It is tremendously rewarding to share the communion with someone who has been a life-long believer but whose body now prevents them from coming out. It is delightful to hear the stories of how the church groups used to exercise their ministry. It is humbling to be invited into some peoples' lives at their most vulnerable, and to journey with them through difficult decisions. It is inspiring to see folks of limited engagement light up when a familiar hymn is bring sung or prayer being said. It's comforting to just be a prayerful presence with those who are struggling to find peace. Sometimes folks remember the visits with astonishing clarity, sometimes I'm forgotten before I'm even out the door.
It's not always easy, when I know that there is paperwork to fill out and phone calls to make and sermons to write. It's not always the most fun part of my ministry. But it is always worth it – not just for the folks that I see, but because I become changed by the experience. I learn a little bit more patience, I get invited a little bit deeper into peoples' lives, I get to hear some truly amazing stories of phenomenal people.  I see the ministry or the care givers and lay visitors, I get to share the communion with a wider scope of the church, I exchange lots of smiles and hugs. I am changed for the better by the experience of visiting as friendships deepen and Christian love and community grows; and I often wonder why I sometimes resist this. I can only hope that when my time comes to be cared for that someone will be coming in to spend even a few minutes with me.
How important is visiting in your community? Do you take part?