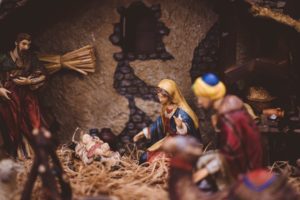 No matter how big and bad you are, when a two-year-old hands you a toy phone, you answer it.
-Anonymous
"Holiday tree" or Christmas tree? Fact or fiction? When the holy season arrives, Christians are called to answer: "Do you really believe this stuff?" The proclamation of those called Christians—that "God became as we are that we would become as He is," is as radical now as it was 2000 years ago. Certainly unreasonable. But then again, who ever said God was reasonable?
What is real, what is true? Is life sweet with well-measured quantitative data, the facts, or the honey of friendship? Am I nourished by a well-designed balance of protein and nutrients or by the hand that prepares it, or the one with whom I share the table? Can you name the three most important things of your life? Are they just the facts? I'll bet they are heart things, not head things. So, what is real, and what is true?
The mystery of creation, the mystery of consciousness, the mystery of personhood, and the mystery of love all seem more real and true than anything else I can think of. We spend our whole lives leaning into those mysteries: reaching, driven by that ache within us—a yearning we cannot quite name. Maybe what is timeless, real, and true, is better captured in art, poem, song and story leading to where reason dare not go. Maybe best to keep silent or gather with loved ones and tell the truth this way:
To you is born this day in the city of David a Saviour, who is the Messiah, the Lord. This will be a sign for you: you will find a child wrapped in bands of cloth and lying in a manger.
-Luke 2:11-12
May this mystery, revealed in vulnerability and lowliness turn our reasonableness upside down so that we can tenderly embrace our own lowliness and boldly love one another. After all, no matter how big, bad, and reasonable you are, when your heart is broken open, a toy phone rings true.