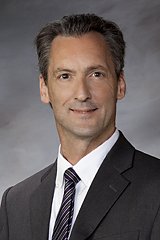 Welcome to the "Common Prayer" blog. I hope you will find the content here helpful to your prayer life. My intention is to throw in some ideas and through discussion, we will all learn. And by the way, this not a place for prayer requests.
I have been asked by the folks that run this site to moderate this blog. I'm grateful for the opportunity and a bit apprehensive. You'll notice in my photo that I do not wear my collar backwards. I'm a regular lay person with a day job and a family and I attend church most Sundays. In our congregation, I am an intercessor and member of our healing prayer team. I am also a director of the Anglican Fellowship of Prayer and am hoping we will be able to link to this prayer topic from the AFP website as an additional resource for our members.
I have been praying since I was a little kid saying prayers before bed. It's been a big part of my journey. I've had pretty boring prayer times and pretty surprising times. I hope you will have had similar prayer experiences and will share your perspective.
I'm curious — what aspects of prayer would you like to talk about?