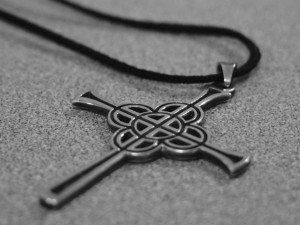 I wore one of my favourite crosses to the office today. It's small, as crosses go, with delicate flared arms and a series of overlapping circles in the centre. I've always thought it possessed a particular beauty–though I'll admit that may have more to do with occasion than aesthetics.
The cross was a gift from the Bishop of Louisiana, following my visit after Hurricane Katrina, which devastated the Gulf Coast seven years ago today. Last night, as the coast braced itself for Hurricane Isaac, my heart went out our friends, and my memories returned to 1995:
I drove into a part of the city (now one of many)
that shocked me. Every house, every business,
every trailer, every church on every corner,
for many kilometres, had been flattened.
Parts of these buildings were everywhere. Cars
were upside down, broken into pieces: a front end
here, a wheel there, mixed into the debris.

Margin note: "None of you can become my disciple if you do not give up all your possessions."
I don't usually keep a journal, but I'm glad I did during my visit to New Orleans: by looking back on the experience, I've learned an awful lot about what it means to be a community. I've reflected on our dependence on our possessions. I've considered the difference between stuff for status and tools for mission. And I continue to be astounded by the overwhelming hospitality I was offered in the midst of despair: God's grace was working in and thorough the church.
At the time, I was a musician and radio host-gone-seminarian, just beginning to discern where God might be calling me. When Katrina struck, the call went out for volunteers in the broadcasting community: radio towers were out of service, homes were without power, and people needed both hope and information. An organization called Friend Ships Unlimited had set up a retired US Coast Guard ship at the port, and would be broadcasting emergency news and inspirational music from the boat. Solar powered radios were being distributed around the city.
I spent six hours on the air each day, telling stories, cuing music, and giving listeners directions to food, shelter, and medical assistance. I spent the remainder of each day at Christ Church Cathedral, helping to sort and distribute the canned food, bottled water, and clothing that had been arriving by the truckload:
I remember one man, who spent part of the afternoon with me, filling a box with cans of beans and tuna. His story had surprised me, because I had made the trip expecting to find myself helping those living in extreme poverty. Those who, by the nature of their place in society, or education, or employment, or even race, hadn't lost very much – because they hadn't had much to lose. But this man was different. He was CEO of a major business. Just months before, he had purchased a home worth millions of dollars. But as we packed the box, and as his story unfolded, I realized just how dramatically the flood had changed his life. "My business is gone," he told me, "I'm unemployed. Now I owe the bank millions of dollars, and my house is worth nothing." Moreover, in the pursuit of his dream, his family had fallen apart.

I remember the experience so vividly because it contrasts another in the same week. Another man, older, frail, and strangely calm. He visited me each day, taking only one or two cans, and enough water for the day. As we talked, I asked him what he had, and what he needed, and he told me that he and his wife had lost everything. They were staying in a temporary shelter. So I turned to grab a larger box, and began loading it with everything I could see… and he stared to cry. "No," he said, "you're too generous. Just enough for today. Others need this." I questioned him: "are you sure," and with confidence, he told me, "we have Jesus, and we have one another. What else do we need?"
Each time I read that story, my heart simultaneously breaks and bursts with joy. I hadn't expected such thankfulness–nor had I expected such generosity. This simultaneous experience of thankfulness and generosity we call hospitality was reiterated again and again in my time in New Orleans, finally echoed in the cathedral staff's insistence that I wasn't leaving until they treated me to a meal of gumbo and fried catfish.
Christian hospitality, it seems, is best lived out when we respond to generosity with thankfulness, and to that same thankfulness with generosity. Thank you, Louisiana, for so graciously teaching me about the way of discipleship. And as Hurricane Isaac bears down on you, and as we hold you up in prayer, we look to the words of one of your own: "we have Jesus, and we have one another. What else do we need?"
Be present, O merciful God, and protect your people thorough this storm, so that we who are wearied by the changes and chances of this life may rest in your eternal changeless; through Jesus Christ our Lord.