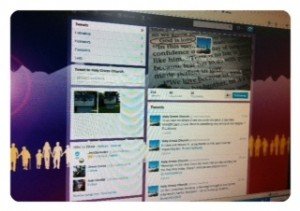 Have you noticed that Twitter and Facebook are everywhere?   In every store we enter we see the constant appeals to 'like our page' and 'follow us here.'  Businesses and retailers run competitions with prizes and benefits for the special tweeter. This has been commonplace for some time. Yet now a new trend is emerging. No longer are these social media devices reserved for the likes of customer satisfaction and retail marketing.  We are now seeing Facebook and Twitter interact with current television programming. For example, the hit singing competition "The Voice" has a 'Twitter Lounge" whereby the contestant interacts with the fans.  In fact the show displays a constant twitter feed at the bottom of your television screen.  Viewers have the ability to see the responses of the show's host and coaches, and even to lend their voice to that feed.
In another example, the hit culinary competition called "Top Chef" included a "Twitter challenge."  For this special event, fans of the show got to tweet their requests for ingredients or actions as the chefs were cooking.  Thus, the chefs had to adapt to a fan's suggestion of 'include bacon!', or 'steal another chef's ingredient.'  Again, twitter was the means for the audience to interact with the enfolding of the program.  Even popular programs like 'Big Bang Theory" or"Fringe" include opportunities for fans to interact with the program in a personal way.  Through social media, the universe depicted through popular television program begins to break into our own.
What's going on?  Is this just brilliant marketing for the creators of FaceBook and  Twitter?  To some degree that may be the case.  Yet more than this, I believe this speaks to an unfolding dynamic by which the line between 'audience' and 'participant' is being forever blurred.  What these programs are realizing is that viewers wish to be involved in the programs that they watch; that they wish to interact with the universe they see unfolding before them week after week.  What is more, as ones sense of personal interaction increases, their loyalty to the program increases as well.   A viewer will, to a greater degree, find personal investment in their favorite program when they are given the opportunity to interact, comment on, or even create the content of that program.
Our religious tradition is one that emphasizes congregational participation in worship.  That is, after all, what it means to be a liturgical tradition.  One has to wonder, however, if we need to hear the challenge being posed by contemporary social media, and find new ways for these interactions to take place.  When FaceBook and Twitter allow individuals the potential to create the experience of their favorite television shows, does simply reciting the psalm by antiphonal responses cut it?  What does it mean to be liturgical in 2013?  Are our congregations wishing for a deeper level of participation and involvement in the unfolding of our worship?
Now obviously, I am not suggesting we post an ongoing twitter feed above our pulpits.   Yet I do recognize that social media provides one with a unique avenue of personal interaction.  For example, I am one who uses my Ipad to conduct liturgy.  One of the beauties of this is that I am able to see a real time update whenever someone comments about the worship on Twitter.  It is a blessing to be able to see one of our young people tweet a quote from the sermon or hymn, or offer their thoughts and insights into what they are experiencing in worship as they are experiencing it.
Perhaps, this current trend of social media and television are pointing us to the fact that people long to be involved.  People long to feel as if they actively participate in that which they find important in their lives.  Beyond gimmick or sales tactic, when people feel that they are given the opportunity to create the very thing that unfolds around them, then there is a deeper sense of ownership, care, and loyalty.  We would do well to heed this call and consider how the church can fully live out our liturgical identity in today's world, using today's tools.
What are some creative ways that you help foster interaction and participation in worship?