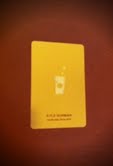 For roughly three years I have held Gold-card status with the Starbucks Company.  I know, impressive isn't it? I have considered printing it on my business cards: "Reverend Kyle Norman; B.A.; M.DIV; Starbucks Gold-Card Member." Being a gold-card member allows me certain privileges when I enter my local Starbucks.  For one, I receive a free coffee of my birthday.  Periodically, I may receive exclusive savings and coupons.  I also receive a free beverage of any kind after 12 purchases.
I still remember when I received my gold-card status.  I actually received a letter from the Starbucks Company.  The letter was addressed to me specifically, even using my name throughout the course of the letter.  In this epistle, Starbucks thanked me for my patronage and support, and for being a valued customer.   It then described how, as a token of their appreciation, I had received the valued 'Starbuck's Gold Card'.  I felt honored, and a not just a little proud.  I felt as if Starbucks, in some way, actually noticed me.  I felt that I had value.
Yes, this is a marketing trick, of that I am fully aware.  By no means do I actually think that the corporate elites at Starbucks are aware of the existence of 'Reverend Kyle Norman'.  Still, receiving that letter made me feel important.  The letter made me feel validated in my coffee-shop choice.  It made me feel special.   More so, when I look upon that sleek, plastic, golden card with the words 'Kyle Norman: Cardholder since 2010' etched upon it, I feel personally encouraged to continue my relationship with Starbucks. Now a-days, I pay for my drinks using my phone's Starbucks App, yet that original gold card still remains in my wallet.  As odd as it may sound, it is a sign of my personal connection with the Starbucks brand, and in some way, their connection with me.
The question that this highlights for us in the church is: how do we intentionally communicate the value and importance of our members?  How do we encourage one's individual relationship with the church, by validating who they are and the gifts they bring? This is an important question for us to contemplate, especially as we exist in a time where attendance numbers seem to go down instead of up.   Given the myriad of Sunday morning options, how do we craft the experience by which those who choose to spend the time with us in worship feel that they have been individually supported, upheld, and cared for?
Now I am not suggesting that we start handing out Anglican Gold Cards, or enter into the process of 'after 12 tithes you get the 13th free!'  Yet when is the last time that we offered a 'thank-you' for the individuals who attend our churches?  When is the last time that we have gone out of our way to praise the faithfulness and dedication of the all that have chosen to worship with us?  When is the last time that the individual in the congregation has been made to feel a special and indispensable part of the church as a whole?
For Starbucks this is a marketing ploy; for us it is about being embracing who we are as Christ's body in the world.  The church is to be the place where people are embraced and supported by the community of faith; where they are invited to uncover the special and God-given blessedness of who they are created to be.  The church is to be a place that lives out the divine benefits of being the community of faith, and constantly encourages the individual to uncover those blessings themselves.  In doing so, we will find our communities both strengthened and brought together; lives will be transformed, ministry will take on a new breath and a new vigor, and the prayers and praises of God's people will be a tangible witness to the unyielding presence of God in life; to the praise and Glory of Jesus Christ our Lord.